Cash for Scrap Copper Cable Brisbane: The Ultimate Guide to Recycling in Brisbane
Brisbane, with its ever-growing urban population and expanding industries, is constantly undergoing renovation, construction, and infrastructure upgrades. Among the multitude of materials that are generated in these activities, copper cables are one of the most valuable and sought-after. Why? Because they are a rich source of recyclable copper. Welcome to the ultimate guide on scrap copper cable in Brisbane, specially tailored for scrap copper cable recycling in the Brisbane industry.
1. The Value of Copper in Brisbane
Copper is a highly conductive, malleable, and corrosion-resistant metal, making it crucial for electrical wiring and various other applications. As the demand for copper globally continues to rise, so does its value. Brisbane, being a bustling city with numerous industrial zones, generates vast amounts of scrap copper cable that holds immense potential for recycling and repurposing.
2. Why Should You Recycle Copper Cables in Brisbane?
a. Environmental Benefits: Mining fresh copper from the earth is both energy-intensive and damaging to the environment. Recycling copper reduces the ecological impact by conserving resources and reducing greenhouse gas emissions.
b. Economic Value: Copper recycling offers excellent potential for profit. Given the ever-increasing demand for copper, its price remains high in the metal trading markets.
c. Job Creation: Brisbane's copper recycling industry has paved the way for employment opportunities in collection, transportation, processing, and sales.
The Step-by-Step Journey of Scrap Copper Cable Recycling In Brisbane
Collection: Every recycling journey starts with the collection. Brisbane has several dedicated facilities and services that collect scrap copper from various sources, ensuring nothing goes to waste.

Preparation and Sorting: After collection, cables undergo a sorting process. They are segregated based on purity, type, and other criteria to facilitate efficient recycling.

Shredding: To make the extraction of copper easier, these cables are first shredded into smaller bits. This process also aids in separating copper from its insulating material.

Granulating and Separating: In this crucial stage, shredded bits are further processed to extract pure copper granules from the mix, separating them from any remaining insulation.

Purification: To ensure the recycled copper meets industry standards, it undergoes purification processes. This step guarantees that the recycled copper maintains its high quality, making it indistinguishable from freshly mined copper.

Reintegration into the Market: Once purified, the recycled copper is ready to re-enter the market. It's molded into various shapes and sold to industries that demand high-quality copper.
Joining the Green Movement: How Can You Participate?
Whether you're a construction company, an electrician, or just a resident with some scrap copper cable, participating in this green movement is easy. Here's how:
Know Your Recycler: Brisbane boasts several recycling companies. Always opt for licensed recyclers who adhere to environmental standards.
Brisbane Copper Recyclers
Company, for instance, offers top-notch services, ensuring both your pockets and the environment benefit.
Understanding the Different Types of Scrap Copper Cable: A Guide by Brisbane Copper Recyclers
In the vibrant landscape of Brisbane, where urban growth and technological advancements are ever-present, one constant remains: the generation and the potential recycling of scrap copper cables. However, not all scrap copper cables are the same. Each type possesses unique characteristics and, as a result, varying recycling values. This guide, brought to you by Brisbane Copper Recyclers Company, aims to shed light on the different types of scrap copper cable you might encounter.
What is Bare Bright Copper Wire?
Bare Bright Copper Wire, as the name suggests, shines bright like a new penny. Distinct from other copper due to its brilliant shiny red hue, it's free from any tarnish, corrosion, or impurities. This copper wire stands out not only for its appearance but also for its unmatched purity and high conductivity.
Bare Bright Copper Wire Recycling with Brisbane Copper Recyclers Company
Why Choose Us?
Top Market Prices: We ensure you get the top cash for your Bare Bright Copper Wire, keeping our prices in line with market trends.
Sustainable Practices: Our commitment to the environment means we use eco-friendly processes to recycle, minimize waste, and reduce carbon footprints.
Expertise: Our seasoned team can efficiently handle, process, and recycle all your Bare Bright Copper Wire, ensuring you a hassle-free experience.
CONTACT NOW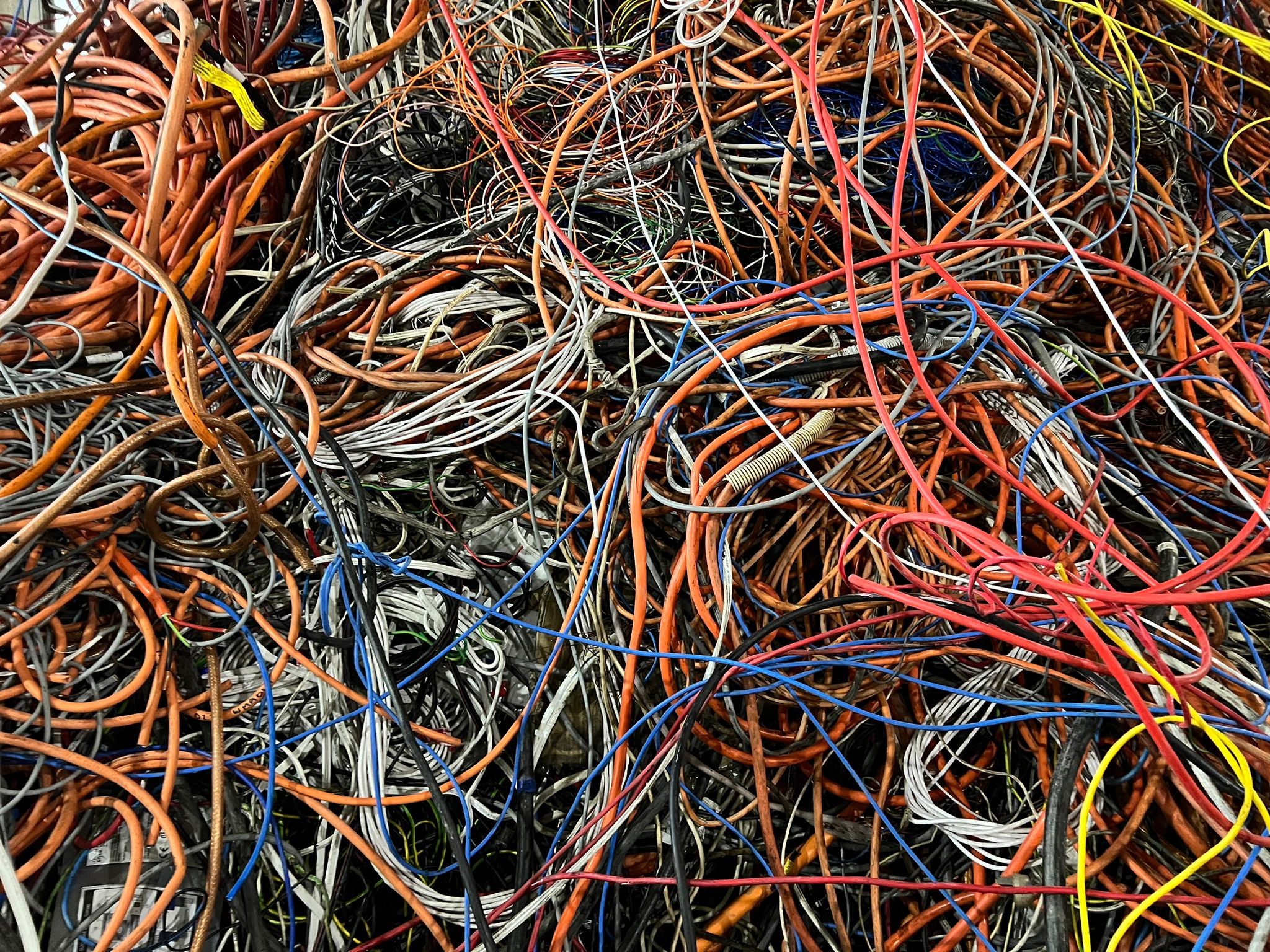 Insulated Copper Wire:
This category includes various types of copper wires with insulation around them. The value of insulated copper wire depends on the thickness and quality of the insulation, as well as the copper content inside. Common types include:
#1 Insulated Wire: This typically contains a single layer of insulation and a high copper content. Examples include THHN and THWN wire.
#2 Insulated Wire: This category contains wires with thicker insulation and a lower copper content. Examples include Romex cable and extension cords.
What Are Scrap Stripped Copper Cables?
Scrap-stripped copper cables are a hidden asset in your old electronics, wiring, and appliances. These cables consist of pure copper wires stripped of their outer insulation or covering. Their remarkable conductivity and recyclability make them highly valuable.
1. Unmatched Expertise
At Brisbane Copper Recycling, we specialize in handling all types of copper materials, including scrap-stripped copper cables. Our experienced team knows the true value of copper and how to extract it efficiently.
Serving All Major Parts of Queensland
Kangaroo Point
New Farm
Fortitude Valley
Highgate Hill
West End
Annerley
Spring Hill
Brisbane City
Auchenflower
Taringa
Teneriffe
Ascot Chandler
Hamilton
St Lucia
Hawthorne
Pullenvale
Bulimba
Fig Tree Pocket
All Urban Centres And Suburbs Of Sunshine Coast:
Caloundra
Kawana Waters
Maroochydore
Buderim
Coolum
Nambour
Buddina
Pacific Paradise
Meridan Plains
Mount Coolum
Bli Bli
Castaways Beach
Alexandra Headland
Little Mountain
Woombye
Coolum Beach
Diddillibah
Eumundi
Marcoola
Mudjimba
Peregian Beach
Twin Waters
Aroona
Black Mountain
Marcus Beach
Palmwoods
Bundall
Molendinar
Broadbeach Waters
Worongary
Coombabah
Elanora
Helensvale
Merrimac
Runaway Bay
Bethania
Benowa
Reedy Creek
Tallai
Oxenford
Main Beach
Miami
Arundel
Coolangatta
Tugun
Bonogin
South Toowoomba
Rangeville
Kearneys Spring
Westbrook
Newtown
Rockville
Harristown
Southbrook
Mount Lofty
Darling Heights
Toowoomba City
Crows Nest
East Toowoomba
Mount Lofty
Brookstead
Caboolture South
Bellmere
Morayfield
Moodlu
Upper Caboolture
Elimbah
Burpengary
Wamuran
Beachmere
Moorina
Rocksberg
Ningi
Wamuran Basin
Narangba
Meldale
Bracalba
Campbells Pocket
Beerburrum
Deception Bay
Kurwongbah
Dakabin
Godwin Beach
Mount Mee
Sandstone Point
Riverbank Estate
Bellmere
Central Lakes Estate
Whiteside
Redbank Plains
Bellbird Park
Springfield Lakes
Newtown
Eastern Heights
Sadliers Crossing
Wood End
Denmark Hill
East Ipswich
Booval
Bundamba
South Ripley
Collingwood Park.